Rogart is a lovely crofting community that is situated only four miles from the NC500. The parish of Rogart was created in the first half of the 1200s when the 1st Earl of Sutherland was created by Alexander ll.
Over the years, the main clans residing in the area have been the Murrays, the MacKays, the Mathesons and the Sutherlands, although it has to be said, at times, not very peacefully.
Nowadays, visitors can enjoy the rich tapestry of differing scenery that the area has to offer. The lowland areas are home to luscious green farmland where the River Fleet flows through.  As the land rises it changes from farmland to fields that are grazed by Highland cows and sheep. Higher still, on the slopes and hills, which are home to the hill crofts, the meadows and fields are replaced by moorland and heather.
If you fancy a spot of fishing, then day permits can be obtained for sea trout and salmon on the River Fleet. You can also buy permits for brown trout fishing. For more information about permits, please visit or pop into the local post office in the Spar shop in Pittentrail village.
Pittentrail is the main village which is located on the A839 which connects The Mound on the A9 through to Lairg. It boasts a local Spar shop, which has a post office inside it, and a filling station. It's also a good starting point for the various walks, details of which can be found next to the parking area and picnic bench located to the left as you make your way to the railway station.
Another attraction in Rogart is the wild goats which roam freely from the high crags to the main road to graze, and they are a truly lovely sight, especially the billy goats with their amazing horns. Their official breed is British Primitive Goats.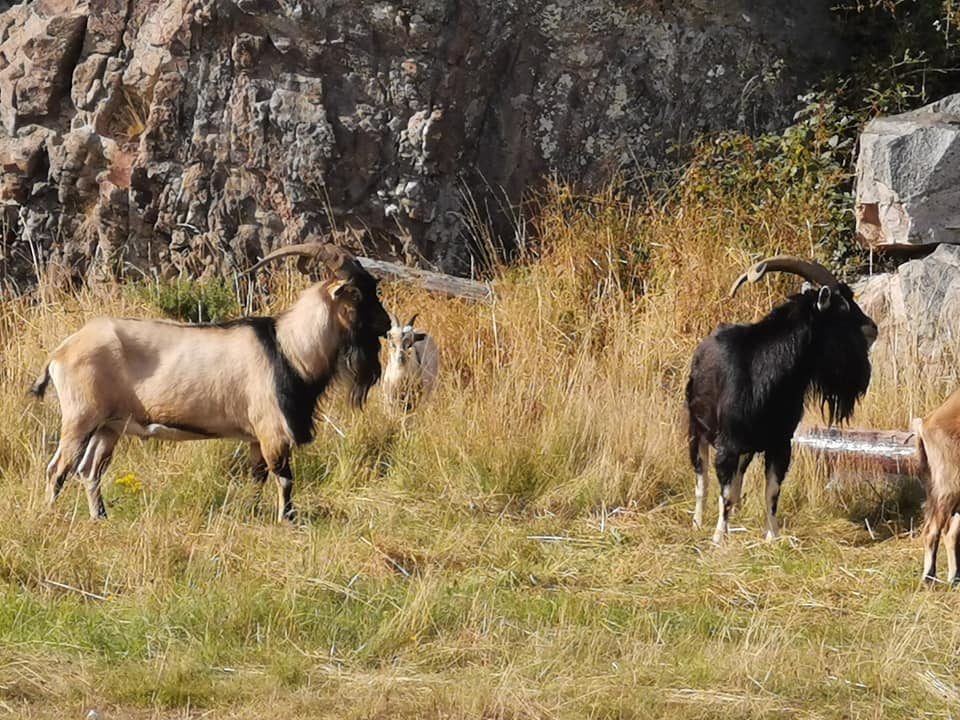 Now, there is a legend connected with the goats. Apparently, if the goats in Rogart die, then the sea will break through the causeway at The Mound and flood all the way back to Morvich. Hence the goats are given more protection through warning signs of wild goats on the road. Just in case the legend is true!
Sources: Ray Collier in The Guardian and John MacDonald in The Story of a Sutherland Crofting Parish
Highland Luxury Cottages can be found in the heart of Rogart and offers some amazing views over its 300-acre working croft. It makes for a stunning area that can be explored by foot, car or bike. There is so much to find from archaeology to history and wildlife. Then, at the end of the day, you can curl up in front of a log fire or relax in a hot tub at one of Highland Luxury Cottages lodges or cottages.
You will find a warm Highland welcome in Rogart. See you soon!